Collection:

Women's Diamond Earring Jackets

Diamond Earring Jackets 

If you are in need of giving your long time diamond studs a new look, try one of our earring jackets available in both 14k yellow and white gold. Our earring jackets are sturdy and can be used for a life time. Our dangling earring jackets styles are always trendy.

Earrings jackets are one of the most eye-catching jewelry pieces, when chosen correctly, they help highlight the best features of your studs. Crafted with stones and precious metals, they help add a new style and personality to any stud earrings. Considering some basic criteria, especially your face shape in earring jackets selection, you can easily choose the pair that best suits you and make a strong impression with your style. You can choose from the most stylish earring jackets, from romantic models such as heart earrings to versatile designs such as knitted earrings. 


Gold and Diamond Earring Jackets Models

Gold is one of the most popular metals as a classic, versatile, warm and attractive jewelry material. Special occasions are the perfect occasion to showcase your favorite earrings. The shine of yellow gold adds a sense of luxury to your overall look. Gold looks great with almost any stone, from translucent diamonds, sapphires, rubies to dark onyx or moonstones. You can pair almost any jewelry with gold, such as zircon earrings, but wearing gold with jewelry made of other metals is generally not recommended. Gold often feels clean and vibrant, and when used with silver or other metals, it can cause a clashing and messy look. Although yellow gold is the most common and classic choice, you can also find earrings in different colors depending on the metals used in the alloy. You can choose from a selection of rare earrings such as white gold, rose gold, rose gold, or even green gold earrings. However, the gold color you choose depends on your personal style and, in most cases, your skin tone. Gold jewelry can stylishly complement any outfit. You can wear your earring jackets with your neutral colored clothing to accentuate the sparkle and shine of gold. You can redefine your elegance in the classic little black dress with a large pair of earring jackets Yellow gold pairs best with colored stones as well. You can match designs with darker jewel tones such as burgundy, emerald green and deep blues or purples with your classic outfits. You can evaluate sapphire earring models together with more elegant and studded small earring models to match them with softer colors and styles. You can use it by matching pearl earring jackets models with other gold jewelry.

For gold earring jackets, the price is determined by the gold setting and labor costs. Gold, also known as 24 carat, is pure gold. However, Pure gold is very soft for daily use. For this reason, gold is often mixed with other metals to make it more durable. The higher the setting for gold, the higher the percentage of gold in the metal, but the lower its durability. 24 carat 100% gold, 18 carat 75% gold and 14 carat gold contain 53.8% gold. Jewelry such as earrings can be found in gold options at almost any carat level. Since the earrings produced from 24 carat are very sensitive, they are generally not suitable for daily use. It is recommended to be used mostly on special days and for limited periods. The most ideal models for daily use are usually 14, 18 and 22 carat earring options. The lower the setting of gold, the more metals other than gold are added to the alloy. In this way, the durability of gold increases. For an earring that will keep its shape and wear every day, you can choose 14- and 18-carat earrings. If you have any metal allergies, earrings on a low setting can cause an allergic reaction in your ears. This condition, also known as nickel allergy, may appear more frequently in alloys such as 10-carat white gold, where nickel is heavily used. If you have a metal allergy complaint, you can choose earrings with a higher gold ratio, and you can choose silver earrings for an anti-allergic alternative. You can find silver alternatives of all gold models you can think of. Like gold, silver also has a degree of purity. Commercially pure silver is 999 carat. Like gold, pure silver is a very soft metal. In terms of ease of use and processing, the purity of silver used in jewelry models is usually prepared to be 925 carat. An earring labeled as 925 sterling silver uses 92.5% silver and 7.5% copper.




Different Earring Jackets Models:

Earrings jackets designs come in a wide variety of sizes and cuts. This way, it is always easy to find a stylish earring jackets that can complement your style, such as a butterfly earring. The hoop earrings models are compatible with almost all styles and have the advantage of being easy to use. In most cases you don't have to worry about matching this model with your clothes or other jewelry. With or without stones, hoop earrings are perfect accessories to reflect your style. It adds color and sparkle to any outfit as a versatile and popular piece of jewelry. Drop jacket earrings add movement to your look like hoop earrings. Drop jacket earrings, which are indispensable for special occasions, are offered in different lengths depending on your personal style. Long jacket earrings designs in drop form can be classic, elegant, fun, monochrome or multicolored. Whether you're following the latest trends or prefer a classic vintage outfit, you can always find a charming pair of drop jacket earrings to match with your outfits to complete your look.

Thanks to the variety of sizes, colors, shapes, lengths, designs and materials, you can make different earring jackets combinations without compromising your personal style. Chandelier jacket earrings always add glamor and movement to the outfits you wear. Offering a bold and powerful look, authentic earrings in the form of chandeliers become the focal point of your look. From styles that fall just below your earlobe to your shoulders, bold earrings are the perfect way to make a red carpet jewelry choice. Whichever pair you choose, these earrings are unmistakably eye-catching and have the ability to frame your face beautifully.

Magnetic earrings jackets use magnets to stay in place and do not require piercing in the earlobe. The magnets are designed to be strong enough to lock together, yet not crush your earlobe and cause you pain. Magnetic earrings, which are easily attached and removed, do not leave a visible mark on your ears. It is a great choice for first time earring wearers. Studded stud earrings are the safest choice for men starting to wear new earrings because they are easy to wear and more versatile than other styles. Models such as clip-on black earrings can be found in almost any style. The earring provides a great way to experiment without piercing the look. Pearl earrings and colored stone earrings, which are popular among women earring models, can be very eye-catching in some cases. Very sparkly ball earrings for men can have a distracting effect on your face and overall appearance. If you want to wear a sparkly earring, you can choose diamonds. You can get a balanced and sophisticated elegance with very stylish men's single stone earrings with a studded design.


How to Choose the Most Stylish Jacket Earrings?

The first thing you should do when choosing earrings jackets according to your face shape is to examine the earring models that are opposite to your face features. Women with oval faces have foreheads as wide as their cheekbones. Facial features narrow from cheeks to chin. If you have a face like this, you can opt for almost any style of earring jackets. However, since oval shaped pendant earrings provide a really striking look, you can choose these models when you want a striking look. These types of earrings are the best choice to draw attention to a long face shape without adding any length or width. Round faces have a shape that expands along the cheekbones and narrows at the forehead and jawline. Long geometric earring jackets are perfect for women with round shaped faces. Similarly, pendant and drop earrings will be an excellent choice to elongate the face. It is better to choose elegant and feminine designs compared to large earrings models with lots of details. Heart-shaped faces have a wider forehead and cheeks taper towards the chin. Long earrings models with beautiful lines and curves best suit this face type. They balance the face shape and draw attention to the eyes, cheekbones and jawline. Square-shaped faces typically do not have a narrowing from the cheekbone to the jawline or from the cheekbones to the forehead area. Pendant and hoop earring jackets with long designs match best with square shaped faces. Rounded designs soften cheekbones and jawline. Overly large hoop earrings are also a great choice for square faces. Rectangular shaped faces, which can also be defined as narrow face shapes, are longer than square faces. Face length can be balanced with long and hanging triple earrings. Long drop earring jackets help highlight the cheekbones and add a slightly soft line to the face.

If you have blonde hair color, golden accessories can complement your hair color perfectly. Platinum or silver colored jacket earrings are the best choice for dark-haired women. For women with red hair, earrings made of rose gold can provide sophisticated and striking looks. If you have short hair or are combing your hair to expose your earlobes, there is no limit for you when choosing earring jackets. The best choice for long hair is a variety of sparkly and long gemstone earring jackets to show them off. When choosing earring jacekts, where to wear your jewelry is also an important criterion. For example, if you are going to buy jacket earrings for a conservative office setting, you can choose classic styles made of gold or silver. Nail earrings models will be sufficient to reflect your personality in the simplest way possible. If you prefer a romantic style and feminine outfits, you can choose earrings with round and curved details. You can choose from geometric variants in designs such as straight-sided, square, rectangular, and triangular earrings for dramatic or elegant looking modern styles. You can choose simple and minimalist style rings and pearl earrings for timeless and classic models. You can match the sheer earring designs to all your outfits without worrying about color matching.

Tips for Buying Jacket Earrings as a Gift:

Consider the likes of the person you will receive a gift from.
For example, a pair of stud earrings jackets might be a good choice for people with a simple style.
For loved ones who follow trends closely and have a flamboyant style, a bold drop or chandelier earring jackets may be the best.

Some earrings jackets are made with metals such as nickel that can irritate the skin.
For those with metal allergies, you can choose gold or silver varieties.
Earrings are timeless accessories for both men and women and come in a wide variety of styles and designs. You can choose classic and modern earring models as an unforgettable gift option for you and your loved ones. You can use your jewelry in a versatile way with earring sets. You can examine the prices of shaped, razored, spider, lighted, grape, K pop, 5 stone, lightning, screw and hoop earrings. You can buy the most elegant and stylish earrings, from gold, silver, diamonds to precious stones, with the privilege of Goldia.

 
Related searches
vintage earring jackets
large diamond earring jackets
vintage diamond earring jackets
diamond earring jackets costco
diamond earring jackets blue nile
platinum diamond earring jackets
lab created diamond earring jackets
diamond earring jackets for princess cut studs
Regular price

$562.10 USD

Regular price

$994.40 USD

Sale price

$562.10 USD

Unit price

/

per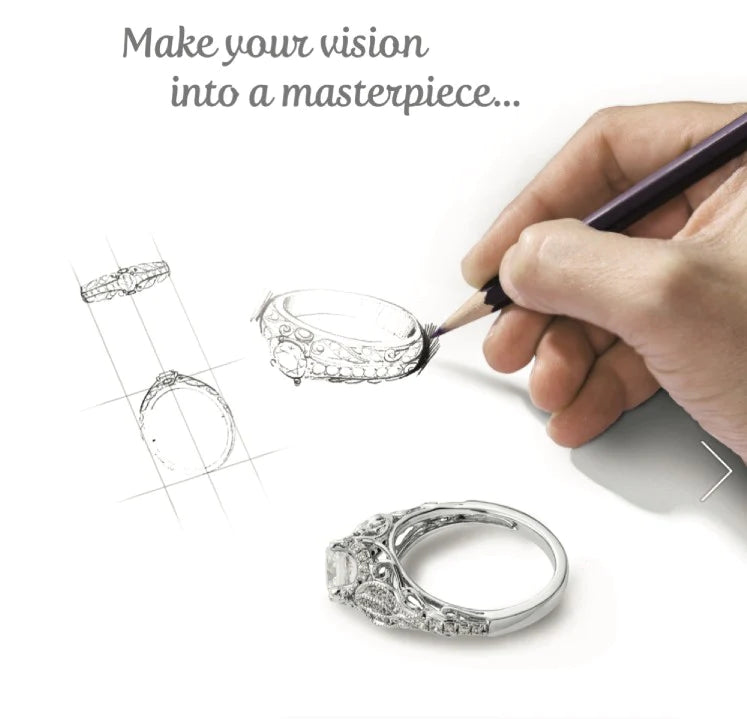 Are the Products Above not Really What You are Searching for?
Let us help make your dream jewelry a reality! Use our easy three part Get-A-Quote form to begin the magic of creating your own, custom designed jewelry. Fill in your Contact Information, Jewelry Information, Upload Images, and add any Notes - click Submit, and one of our design team reps will be in touch within 12-24 hours.
Get-a-Quote